A week ago, Ju, my sister and I spent half of our December holidays in Seoul, Korea for 2 weeks (15 days) in minus temperature. And of course a big thank you to
Rch
for helping us with parts of the itinerary, loaning us T-money cards, sim-card and lots of useful maps of Hongdae and Korea. The last I remembered about Korea was me skiing in a kids-sized pink jacket, together with a tour group and my family. That's that. Drafting the itinerary for 14 days was tiring, especially when you're really unsure about the place but with some help from Rch,
Seoulistic
and
Kampungboycitygal
, it was wayyy easier. The thing about travelling in winter is that, it is easy to end up in a traveler winter slump - that's because of the short winter days and long winter nights. The sun sets pretty much at 5 odd in the evening so if you're a sunset person like me, you have to plan :)
(J#2) Seoul Top Studio / Hongdae
We used
airbnb
for most of our accommodation in Seoul, and the prices you pay can sometimes be better than guest houses, especially if you're traveling with your family and would love some private time. We traveled in a group of 3, so by booking with airbnb, you usually have to top up for each additional person, depending on the hosts' policies. We made ourselves comfortable at home in
Joshua's (our host in Korea) apartment
, located in the heart of Hongdae, but away from all the loud music and crowd. It was as though the perfect location to spend your time in Seoul if you want to surround yourself with stores, clubs, night bars and food all the way from noon till midnight and bars till dawn.
This was how it looked like right outside our apartment the next morning after a warm hearty dinner and a good rest. So we woke up to the sound of snow and shovels. What better view to start your day? I kinda miss the apartment, the location, the weather and the things we did in Korea… :'(
We stayed in
another apartment
located at Dongdaemun History & Culture Park for a night that was booked via airbnb as well. Super comfortable and cozy, awesome location, had all the amenities you'll need and could fit up to 3 pax travelling comfortably. Plus point: It even comes with cable TV with a variety of channel. I was hooked on the TV till I could feel my hunger pangs, and settled for
**Highly Recommended**
Korean BBQ a street away from our apartment.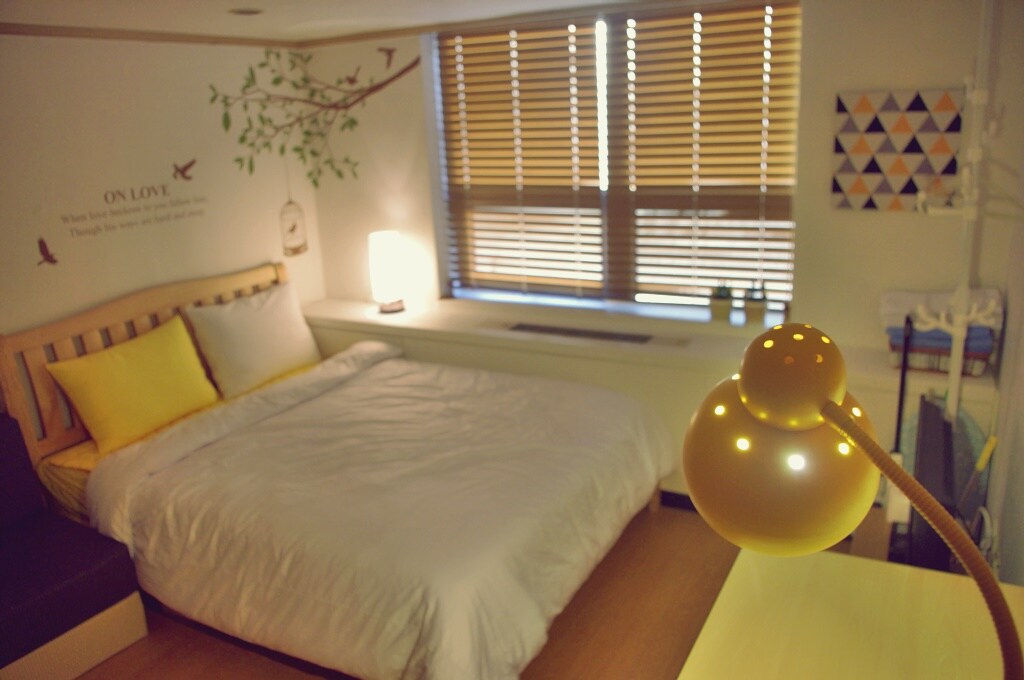 #2 - Cozy Studio
The host, Joy really put in effort into designing and segmenting your trash for you. He even put cute buckets with pictures for you to separate your recyclables and trash. He even provides you with t-money cards (travel cards) and a portable wifi-egg :)
I wished I took pictures when we were in our apartment but all our heavy winter wear, once removed, were thrown all over the place. The luggages (once unpacked) is a disaster :P Nope, you can never travel light in winter. But isn't it the best season for celebrating White Christmas?
Get Dollars & Discount off your Travel & Accommodation?
Also, some freebies for you! Click on the image below or
sign up with
this link to get $77 off your booking

!
What are you waiting for :)
Merry Christmas, from us <3