Sometimes I blame it on bad genes - When
oily skin
runs in the family, chances that some members will have bigger sebaceous glands, that produces excess oil so your skin looks oily from time to time. That may result in clogged pores or breakouts. I'm lucky I don't often get breakouts, but larger and clogged pores, I can't escape from them.
So for some time now, like any other girl that may be sensitive or affected by how they look, I go onto google and look for products/ treatments and reviews of what to do about it. I often get the usual - Eat more fruits and vegetables, hydrate yourself, consume less oily food, don't wash your face too often as it leaves your skin dry, hence producing more oil to compensate for the loss… And then when nothing works, we get desperate.
After watching Tried & Tested by Clicknetwork TV for one of the many episodes, Shu An mentioned about an amazing product - The
Mario Badescu Silver Powder
that is possibly worth all the hype. I literally paused the video and looked up more on it - for reviews, blog reviews and even YouTube. When I saw how it was able to magically
unclog congested pores, prevent blackheads and improve overall complexion
, I also searched for before and after pictures, and watched a few YT videos before I was
completely sold.
I had to try it for myself.
Image from
Luxola Singapore
When it arrived, I was excited to try it out. So I unwrapped the package to find a small bottle, with freebies as well. Happy is happy. It just looked like how it was reviewed to me - Powdery, though not silver, and more powder.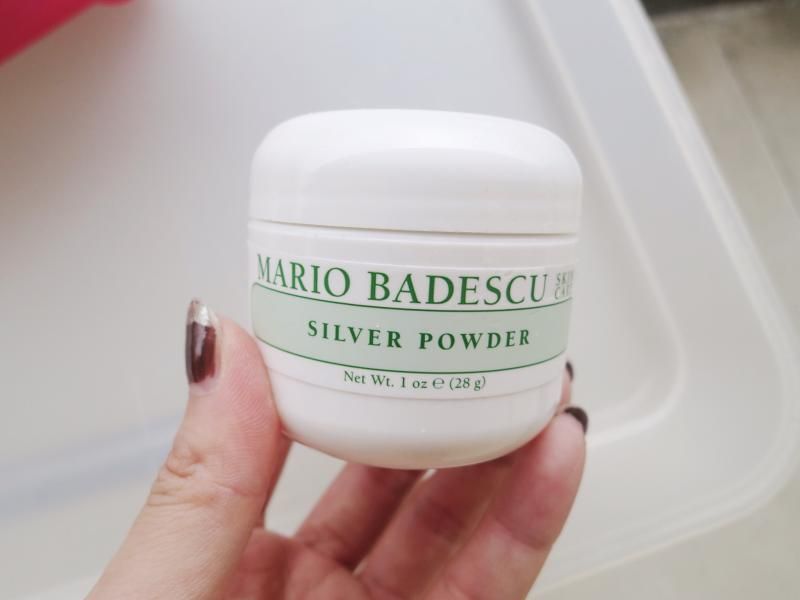 I don't have flawless skin, which is sad, and I know it. But after reading all the reviews and being desperate, I gave it a try. The above was my before and after photo, after using the Silver Powder from Mario Badescu. So the instructions were to:
Dampen a cotton ball/ pad with water and dip it into the powder.
Press powdered ball/ pad on T-zone area (nose, chin, forehead), and other clogged areas of your skin.
Allow the powder to sin on your skin for 10 minutes.
Using toner or astringent, remove the powder.
For the best results, use Silver Powder once or twice a week.
I actually use a cotton pad, and I buy the nice thick ones from Daiso (Not for fussy people, and sometimes from Watsons), and press the powdered pad all over my face, something like a mask. It feels like a wet clumpy thing on my face but it dries up pretty fast too. Half way through 10 minutes, I can actually see dried up powder flying around me here and there. The magic happens when you actually use a toner with a cotton pad to remove the powder. It works like a charm, like what it said it would, to clean up all the gunk in the pores and visibly made me looks less shiny. No regrets so far, and results are most apparent when used twice a week.
I love it, it's godsent!
Also,
Luxola
is having a 15% off sale all
Mario Badescu
products, and yes, that includes the
Silver Powder
as well! U.P at $27.00, now retailing at $22.95 with next day delivery and 2 free samples of your choice upon check-out :) I've picked their Klarity CC cream which I might review in the coming posts.
So,
can the MB silver powder unclog pores and clean out the gunk?
My answer, yes it definitely can, or at least it worked for me, for the blackheads around my nose and the pores around my face, but definitely best used with pore-stripes or extractor, and deep cleanse again after :)
Update on 5th April 2015:
I was looking for ways to play around the application of the MB Silver Powder on my face. It's been good old 4 months now, and I've found a method that I'm pretty comfortable and love it pretty much. I use the right amount and gets it covered into every pore on my face. Let me share with you how:
I used to use a dampened/ wet cotton pad to pick up the powder from the bottle (and not dipping it in on the same side/ same pad again), and the apply use that cotton pad to apply it all over my face. But I found that I didn't exactly get the mixture on my face
per se
? I felt like it would have been better and thicker some how if the pad wasn't kind of "rubbing my application away."
Here was how it looked like when I used the wet cotton pad with the powder and applied it on my face. After drying up, I could see how there were swatches of patches that I used the cotton pad to apply, which kinda "wiped" it away. So I found my own method to make it consistent and thick, with the same amount of powder I picked up each time.
Where can you buy Mario Badescu Silver Products in Singapore?
1.
Click here to enter Lazada Singapore
2.
Click here to enter Sephora Singapore
*Based on honest opinion