If someone walked up to you and said, I have a pocket full of amazing deals for you to unravel, and they're all 2 for the price of 1 - Would you be in disbelief? I would be.
When it comes to dining out, beauty services, planning for activities and visiting attractions, it's always nice to spend a little, and save a little more. And saving a little each time goes a long way :) Banks love to give you rebates for stuff that you spend on, and they love to reward you for spending more with them. It makes you feel that for the dinner for 2, the discounts you've received with xxx card, and the savings you saved were pretty much worth it. And
The Entertainer
does exactly just that! You might be wondering,
What is The Entertainer?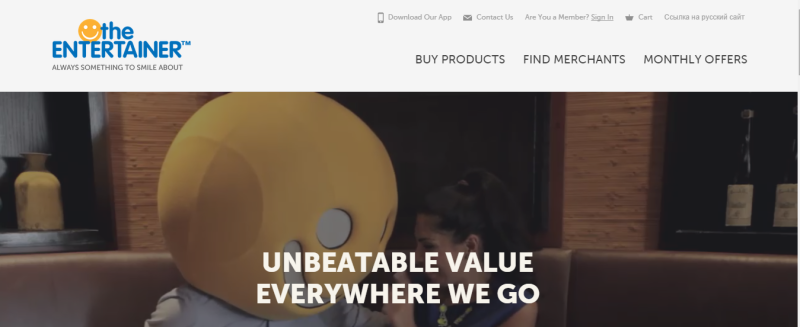 The Entertainer (
www.theentertainerme.com
) offers more than 800 Buy One Get One Free (one for one) offers for Singapore's hottest restaurants, bars, informal dining, spas, activities, attractions and more. This year's product includes the Entertainer Travel 2015, which features over 250 free night offers at leading 4 and 5* hotels across Asia and beyond. In short, they offer you unbeatable value everywhere you go!
Remember how I've always been talking about being dependent on
Openrice Mobile Application
when I was away in Hong Kong for 6 months? I could literally search for awesome food places nearby, or by entering my desired location. I get to see the promotions and offers that are going on and the reviews by the locals. But guess what?
The Entertainer Singapore App
makes it even better by offering you a long list of Buy 1 get 1 Free deals at cafes, restaurants, bars, spas and even more. You could even dine at nice restaurants located within Hotels (with amazing ambiance by the way) for only half the price! Can you imagine your savings already?!
Here's one my personal

Entertainer

App-erience

with DEN

, one of the F&B merchants offering 1-for-1 deals for Entertainer users.
Stashed along one of the alleys near Telok Ayer MRT Station with Chinatown and Tangjong Pagar nearby, DEN Bar & Kitchen definitely gets to hit different crowds at different times of the day. It is uniquely, a European style bistro by day, contemporary tapas and wine bar by night, Den is a quiet enclave that marks the beginning of a culinary journey. You may just salivate enough with the amount of truffle they have of their menu.
Served with one of their signature salads, the
Beetroot Salad (S$10)
can be found on their lunch menu. Prior to this, I haven't exactly tasted beetroot like this before, so mixing it with rocket greens, quinoa, mesclun, walnuts and oranges doesn't seem like a bad idea.
Another of Ju's favorite would be their
Watermelon Salad (S$10)
, that tasted nothing less than juicy with the crunch it has, while retaining the salad-y kind of teture on the dish. I mean, shouldn't watermelons somewhat come in a form of dessert? But that's the beauty of food ay, you get a mix of everything everywhere - Watermelon Soju anyone?
Above served is the
Seafood Mafalda Pasta (S$13)
, also available on their lunch menu which tasted pretty decent, and served with fettucine pasta choice is a plus for me. Of all pastas available in the market, spaghetti definitely doesn't top my list! This dish is topped with fish, squid and prawns, yuzu rocket salad and dressed with tomato and cream sauce. Om nom nom.
Oh howdy! That is the Truffle and Parma Bikini (S$15), only available on the dinner menu. It kind of reminds me of a truffle parma ham pizza, but they named it bikini for a reason - You've got right things covered at the right places. I only need the truffle, cheddar, parmesan and parma ham leaked to induce salivation.
We've really got to give it to Den for thinking about all their cheesy pickup food lines, or should I say adventurous and unique? The above is none other than Pigs In A Blanket (S$10), also available on the dinner menu. The little cut-out spicy Italian sausages are itself wrapped in bacon, served with a dash of double mustard sauce on the side. I mean, it was nothing impressive if it was just normal Italian sausages. But I liked how they added the differentiating factor by wrapping them up in bacon blankets.
I was also an avid fan of Mac & Cheese while I was in Hong Kong. Think instant Mac & Cheese - they were my best friend. So readily available and easy to make. My exchange friends also had a M&C party one night! The above
Truffle Mac and Cheese (S$12)
is nothing too heavy for lunch - Look at the amount of truffle generosity! I would add a little truffle sin onto each bite out of the portion, and that would alleviate the taste of the entire dish even further.
These are just some of the dishes that we've tried out of the many that they have in both their lunch and dinner menu (Note: There are 2 different menus) so if you'd like to try some of their food, be aware of what menu it would be in and then check it out at that timing. You could get a cup of fresh roasted Long Black/ Americano (S$4) while at lunch, or a glass of white or red wine to pair with your dinner.
Address: 29 Boon Tat Street, Singapore 069624 (Nearest MRT stations: Raffles Place and Telok Ayer)
Why should you get The Entertainer App?
You get to dine at awesome dining places at half the usual price for 2! That's 50% savings!
You get 2 for 1 night hotel stays - Did I hear

staycations?
Offers are available across 40 destinations throughout the Middle East, Africa, Europe and Asia!
Well... The Entertainer Singapore
app
retails at S$75 but, you could get it right now at the early bird price of S$60! That's an initial savings of $15 :) Don't belittle this upfront price that you've got to pay though. It kinda
unlocks
all the awesome deals that you will be able to use,
and save
in future! For people whom love both food and travel - This is the perfect app for you, both locally and abroad.
For people that doesn't like to download too many mobile applications, or prefer the traditional way of holding onto coupons... You're not forgotten :) The Entertainer Singapore
book
, which contains the same coupons in paper format, is now priced at S$75 (U.P. S$80) and is also available for purchase at
www.theentertainerasia.com
or selected bookstores. I'm an app-person, and I prefer convenience. What if one day Ju and I have made an impromptu decision to dine somewhere, and left our coupons at home? *Terrible terrible mood spoiler, knowing that you'll be able to save more if you had your coupons with you...
How can you buy The Entertainer App/ Book?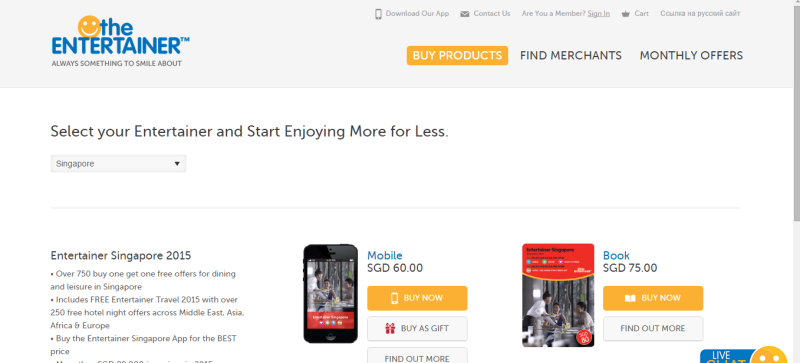 Make sure "Singapore" as your location is checked in the drop-downlist, and select a product that you'd love to purchase (Mobile/ Book version).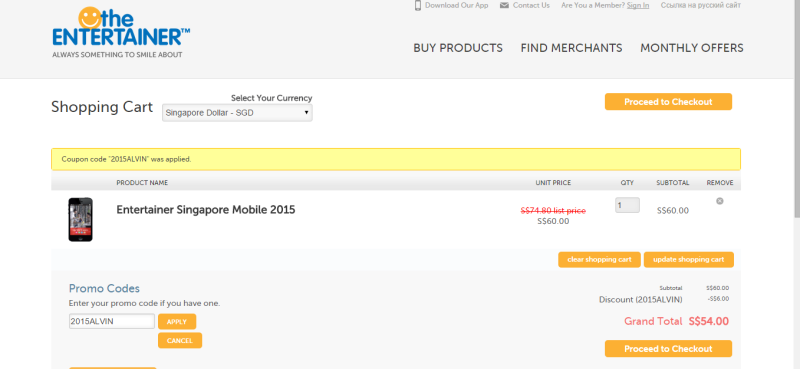 Select your preferred currency (SGD), and enter "2015ALVIN" in the promo code and be entitled to 10% OFF your total bill! Pay only SGD54 for a year worth of awesome deals and savings!
So start your savings early into the year today! Download The Entertainer App today :)
*A separate post would be done on The Entertainer Mobile App itself
Invited by The Entertainer for a Sampling Session