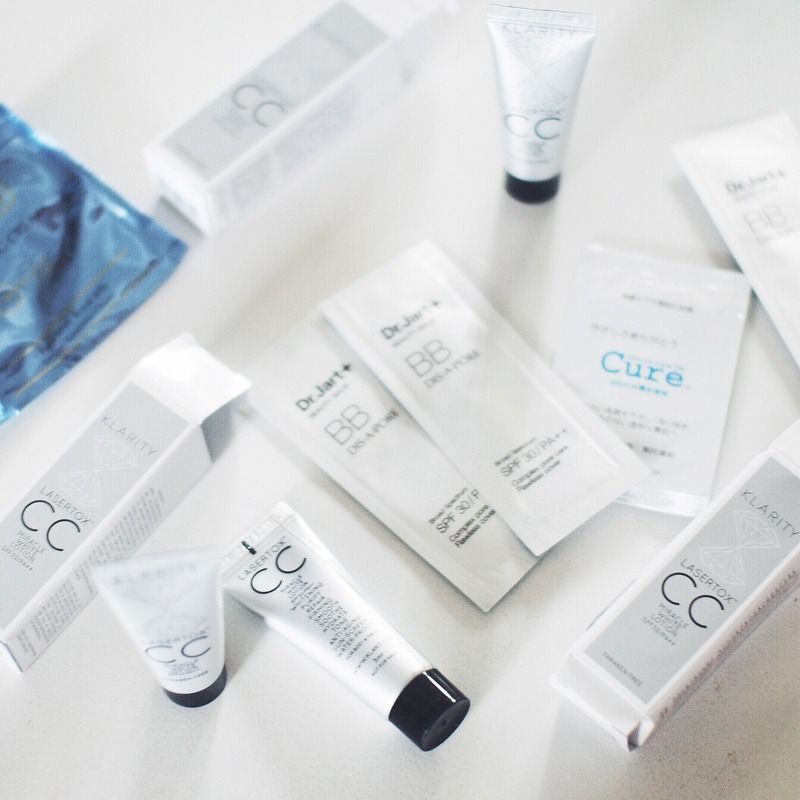 Where to get free beauty or skincare samples in Singapore?
There are a few places that comes to mind. It may be especially useful if there are some products that you are dying to try before making a sane decision to purchase. Most of my decisions sometimes, are not sane :P Samples are amazing. They're tiny, small-sized and travel-friendly. I went to Korea last December and my sister and I received a tonne of sample-sized products (from facial masks to eye-creams to gels and lotions) from Korean brands. We packed it together in a bag before we flew back and that is quite an amount of sample we have!
Then it happened to me - I received a free
Klarity™ Lasertox™ CC Miracle White Lotion sample
(which I selected) from my
Mario Badescu Silver Powder Purchase from Luxola Singapore
and I just fell in love with it. It was a pretty small sample-sized tube (5ml) and I'm thankful it didn't come in sachets. If it did, I wouldn't know what to do with the remaining cream left or how to store it completely. That aside...
Image credit - Secretive.sg
The Klarity Lasertox CC Claims to help achieve one shade lighter whitening effect instantaneously - Although I could see that, but I just didn't have sufficient product to actually witness it. I generally apply a small amount around my cheeks, nose, forehead and chin sparingly. Indeed I got a little glow from it, and I loved how light the coverage feels - it doesn't feel heavy at all! The best part about the Klarity Lasertox CC is that it doubles up as a sunscreen protector, protecting my skin (especially my face) from the harmful UV rays that helps to prevent photoaging and promotes youthful skin.
Ju always leaves the house with his sunscreen on - He got it from National Skin Centre and applying sunscreen actually has their proven benefits - mainly preventing photoaging or premature aging skin, wrinkles and skin discolorations. I also trust applying sunscreen every morning on a daily basis just because Koreans do so :) Don't trust me on that!
Source
1
|
2
|
3
So I really liked how light it felt and all the benefits and function it claimed to have, especially since I wouldn't need to slap on another layer of SPF sunscreen after applying my Nature Republic Super Aqua Max Combination Watery Cream in the morning. Wow that's a long name in a single breath. I liked it so much that, during my second purchase at Luxola, I decided to select the Klarity CC again for my FREE product at checkout. You have no idea how happy I was to have another 5ml bottle in my drawer.
Find out how I got Free Samples
1. Choose your FREE product from Luxola wisely
- Bottled/ mini-sized ones are more travel friendly than the ones that comes in sachets (most of them do anyway)
2. Select your FREE samples from sample store!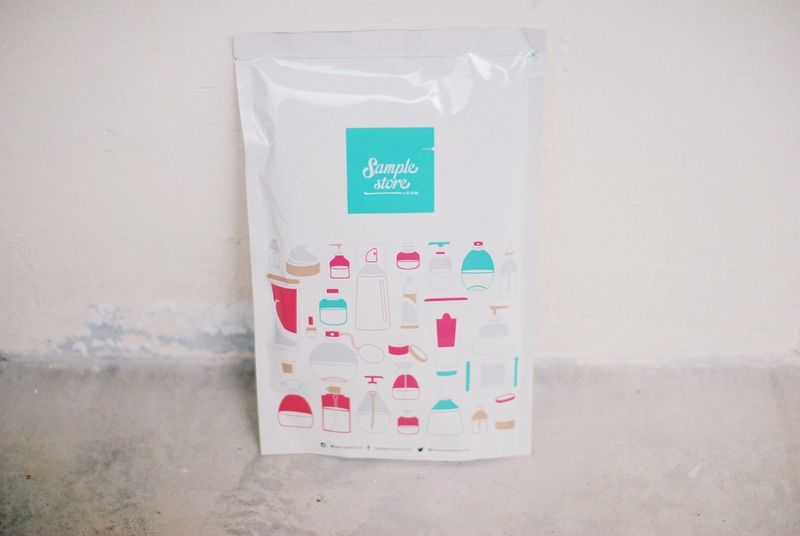 Then, I started surfing more blogs and saw how they have the
sample store badge
listed on their website. So inquisitively, I went to check it out. Hey! I could actually cart out 4 free samples from sample store without paying a single cent! For example - A free sample that can be redeemed as shown
for Janssen Cosmetics - TREND EDITION - Detox Cream and Formula here
.
Always go through their description, information as well as their reviews. It can be pretty informative at times! The information usually states how the sample-set products would be like, if they would send 2 x sachet of 2ml or a tube of 5ml (like the Klarity CC).
Amazingly, I received up to 3 Klarity Lasertox CC till date since 2015 and I'm now contemplating to purchase the full-sized ones online or in-stores (Sasa sells them too)! I actually prefer CC cream as compared to a BB cream, though a BB cream would definitely give more coverage. However, a CC cream does what a CC cream has to do - color correct. There are also other CC creams from Korean brands that I'd definitely love to try, so I'm definitely keeping my options open before deciding to purchase a full-sized bottle.
I also have slight hyper-pigmentation and freckles, sometimes I'm pretty bothered by it.. But I try to be more mindful and experiment more with products as well as maintain a tardy skin-care routine that I currently conscientiously follow via trial-and-error.
3. Sign up or Like Beauty & Skincare Brands' Facebook Pages
There are countless and lots of beauty and skincare brands on Facebook, much less their giveaways and promotions that they always have! For example,
Kose
,
L'Oreal
and
Hada Labo
to name a few... They run contests, free giveaways and free samples from time to time, so it's best to keep yourself up-to-date by following and liking their Facebook page! Of course, participate and hopefully, win! We all know what are the chances like, but if you don't try, you'd never know!
Like how I've participated in Carousel Bondi's giveaway to a Yoga Festival and I won! :P Amazing and lucky isn't it?
4. Be aware of brands that promotes FREE samples on their websites
For example, ladies cleansing brands such as
Lactacyd
and
Summer's Eve
allows you to request a sample product from them by just filling in their form! I've too requested for my very own via Lactacyd's form, and a few days later I've received 2 sachets (I think?) in my mail. I gave it a try, of course and purchased a full-sized one from Watsons at $11 or so. I also lookout for occasional Watsons promotions (lovvitttt)!
Also, another Japanese beauty and skincare brand,
Hada Labo
also allows you to request and redeem FREE samples!
5. Attend road shows/ pop-up stores along Orchard Road or anywhere else!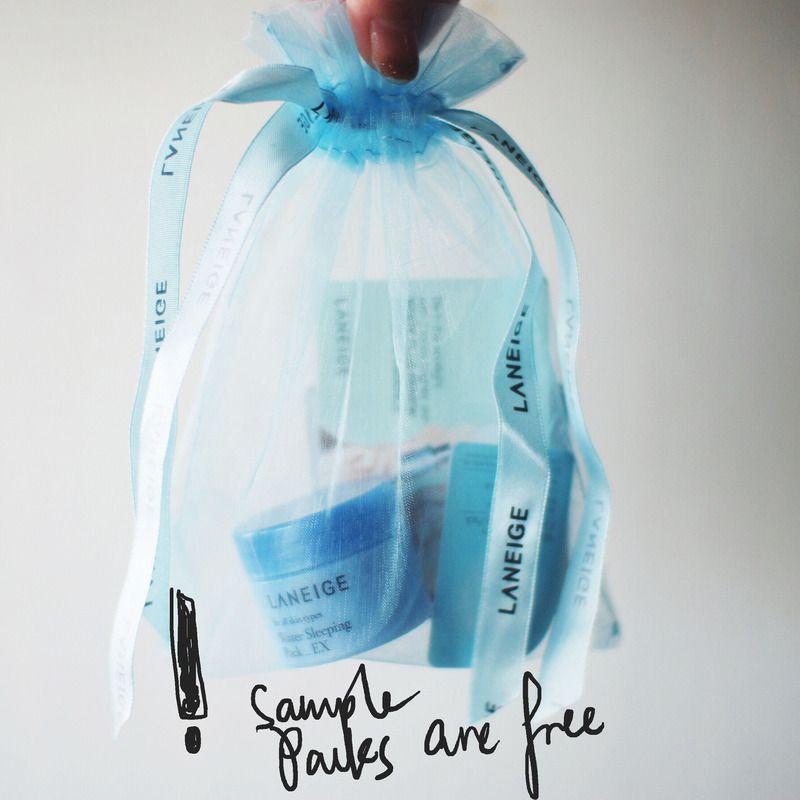 Then again, you've got to be kept up-to-date with the brands you'd love or follow them on their social media accounts to know what are they doing over the weekends, or if they have any promotions or road-shows coming up. So
Laneige Singapore
actually had a mini brand awareness campaign along the streets of Orchard Road. All I had to do was to follow
@laneigesg
on instagram and receive a free sample pack! They're soooo generous with it though! Here's what happened on their instagram...
Let me know what are your other ways of getting your free samples in Singapore! I'd definitely love to hear from you, though my list isn't exhaustive but I hope it definitely helped you in getting yours!
Till then!
This post is in no way paid or sponsored. Based on personal experiences and honest reviews.