We all know how eCommerce and the Internet is changing consumer's shopping behaviors - How it changed/ destroyed offline bookstores, how it changed apparel industries, and how digital marketing has become a big thing since balancing the shift and integration from offline to online marketing. It also shows how our data is collected and analyzed to show us more targeted promotional materials - products and services that we probably are searching for on the Internet most of the time. It's a little scary, but we have to change and move on with technology.
It has to drive the right amount of confidence and trust - to make a single purchase of a smaller ticket item to multiple purchases of larger ticket items. Am I scared? Sometimes. I still check if my session is secured or encrypted, I still ensure that I purchase from sites that I know about, and I will only repeat-purchase when the site I've previously bought from have hit, or if not, exceeded my end-consumer expectations. That's probably just me.
But there's one site I'd love to share with you - A site that my family and I have been making all our household and electronic purchases;
Lazada Singapore offers a wide range of products ranging from different categories
, from household to personal items and even products for mommy and babies :)
I don't know about you, but I've been hearing and seeing waaayyy too much of Lazada every single day. My mom tells me about it all the time - she loves it. She loves looking at home appliances and other random cheap DIY home furnishings.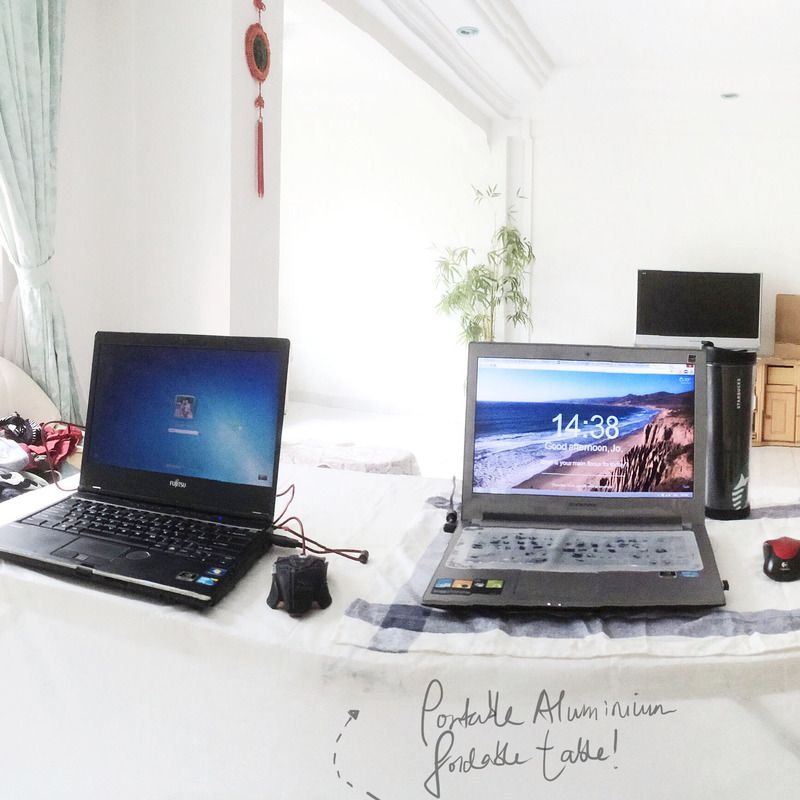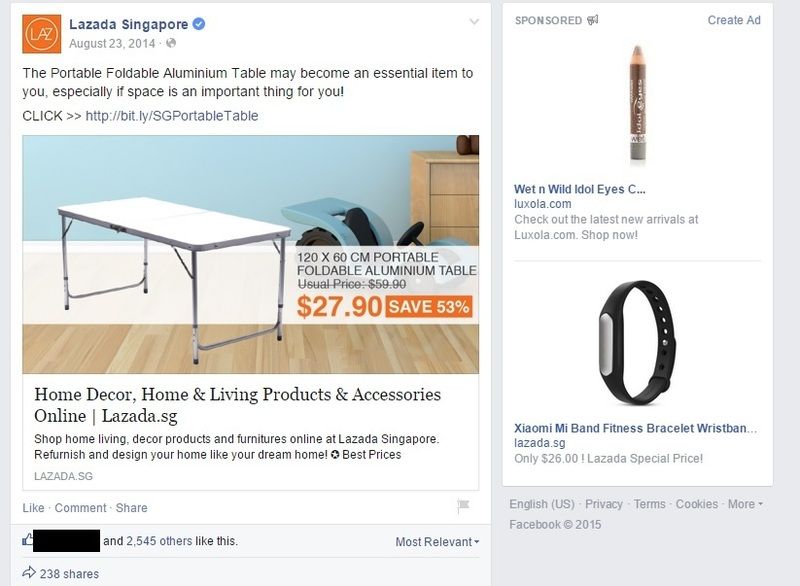 Aluminium Portable Foldable Table
- The name speaks for itself
Here's one of the deals we got an amazing price when we saw it on their Facebook Page last year! We were skeptical at first, but after some thought, since it would be of use (as a make-shift study/work table in our living room), host parties when our friends are over, and even doubling it up as our extra CNY table for steamboats and extra guest - we were sold. For $27.90?! Practical purchase in full-force. I even bought a $2 white table cloth from Daiso and made use of some cloth from Ikea. Simplicity at best.
Since we bought our coffee-table, it's probably folded and stowed away in the storeroom. And bringing it out for BBQ outings :P There are many other products that we have picked out and decided on the purchase (After comparing with offline and other online stores).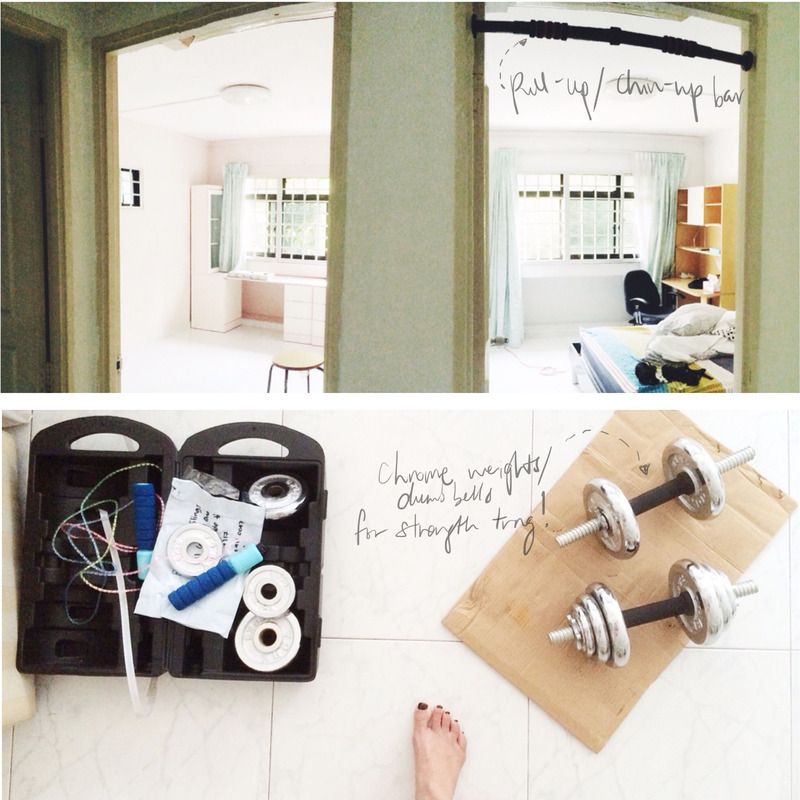 Another category that I have always been interested in - Fitness/ Sports

.
And I thought it's always nice to have a
pull-up/ chin-up bar
(with easy twist installation) at home. It doesn't take up extra space, gives you a little hang-time each day or to simply, increase your heart-rate! I guess it's something that Ju kinda does every single day, before entering and leaving the room :)
Ju and I also decided to invest in a set of chrome dumbbells, or any dumbbells so that on lazy days, we can do a little strength training at home. He does his workouts with heavier weights, and I simply remove the excess weights that I don't usually need. I'll work on home circuits, a little of Kayla's Workout and sometimes, just HIIT with lighter weights involved. I like my purchases to be practical, and I think these, though shared with my family, are practical :)
Prices may be different, as I bought these items last year.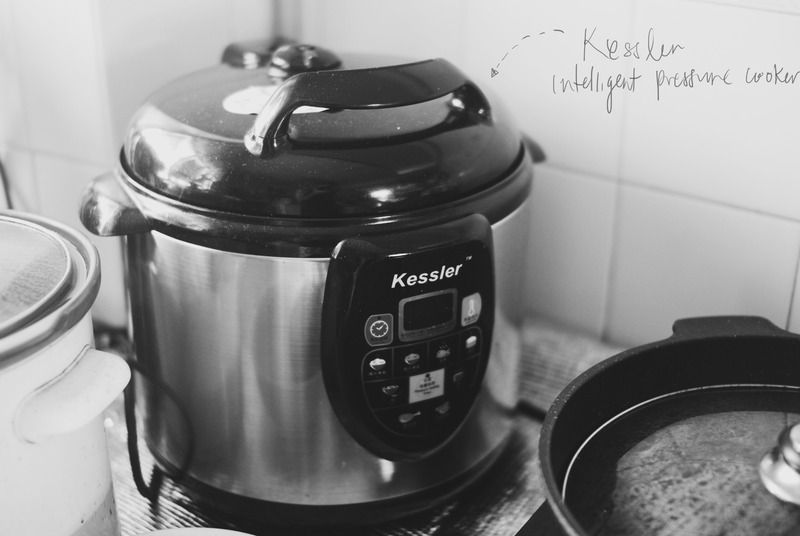 What instigated the
Kessler's Pressure Cooker
last year was that our old casserole cooker was kinda faulting on us. So my mom was looking around the offline stores for a slow-cooker replacement, until we caught Masterchef US Season 4's Finale together. Lucas was using a pressure cooker for his main, and it was the kind of intensity, speed and pressure it was able to deliver under such conditions. So we read up more on a pressure cooker and decided to get one. Ta-dah! Back at home, seated behind our slow-cooker in the kitchen.
Not my mom/ grandmother's proudest electrical kitchen appliance - but it definitely served us well for cooking big pot of dishes and food during our CNY Reunion Lunch and Dinners this year. It also has a larger serving capacity, and lots of options to choose from based on the type of food you'd want to cook. I'm not someone fluent with the kitchen, so google might help pretty much!
Watch Lucas here and his comments from 14:13 onwards - while he was using a pressure cooker in his finale showdown against Natasha.
These are some of the buys that I purchased from Lazada Singapore, and definitely love to share more relevant ones that may be helpful for you to make a more informed purchase :)
Lazada's BIG Birthday Sale
And also recently,
Lazada has been promoting their Birthday Sale
across all of their social sharing platforms - just in case you've missed... Here's one on their Facebook!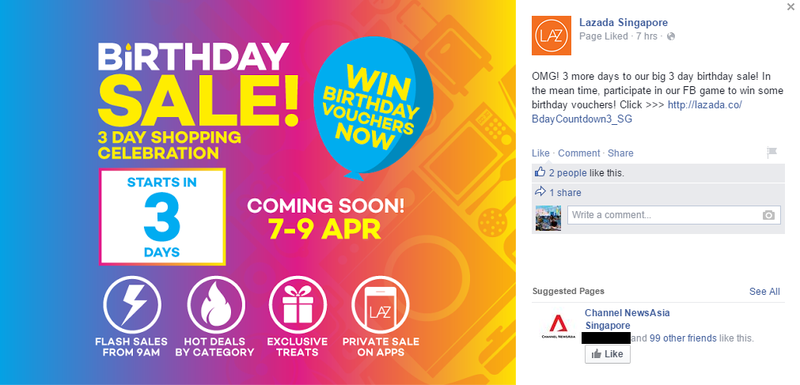 Officially 3 more days to their BIG BIRTHDAY SALE, which I'm pretty excited for :) You can even
participate in their Facebook game (there's still time) to win a $30 gift voucher for yourself to spend during their birthday sale!
I've already participated but, whether I get 20 likes on my comment... Is a different question :P
After so must zest and excitement in my past purchases, I'm excited on what's to come for Lazada's 3-day birthday sale from 7th to 9th April!
What you can expect:
- Flash sales from 9am to 9pm
- Hot deals by category
- Exclusive treats
- Private sale on apps
All information has been taken from their site
http://www.lazada.sg/birthday-sale-teaser/
I think we may already start adding items into wishlist (like what we did for
Luxola's Midnight Madness
) and then re-assess them when the time comes!
But for now, HAPPY EASTER WEEKEND!