Have I really been
thaaatt
busy? I've only managed to squeeze in 1 post in May, compared to the months in March and April. Oh dear. My calendar isn't very happy about that. Well looking back, at least I took an awesome break back in the most relaxing City in Southeast Asia in May - Bangkok :P I wished you could see the grin on my face right now.
Previously on my
Bangkok's Travelogue, I reviewed about Berkeley Hotel Pratunam
, which we've stayed in for 7 nights - All that comfort hanging-out, all that workout mornings and all that jazz. This time, we grabbed a deal during
Groupon's 7% Sale
for a 5D4N deal at
Hotel De Bangkok
- One which Ju and I have stayed in one of our first trips to Bkk, with a complementary upgrade to superior room at only SGD$180 for 4 nights! What a deal - And I still love that place after visiting them in 2013 no less.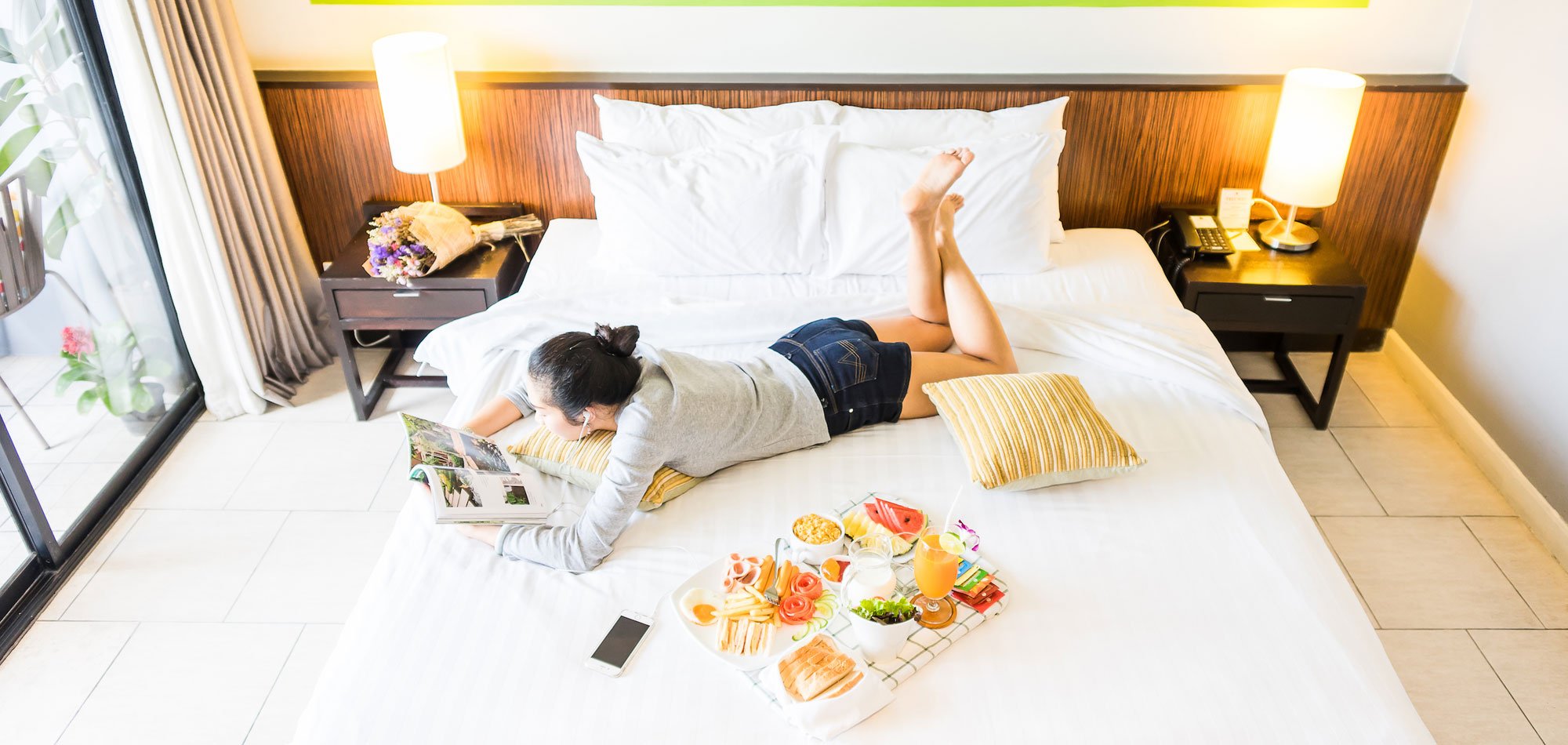 Our friends have got a huge corner room, a queen-sized and single-sized bed each and Ju and I obviously left the single-sized bed unused, and had the hugeee room to ourselves. I'm not kidding, and it was such an affordable and enjoyable stay. Just in case if you're wondering how long does it take to get to
Pratunam Market
, that's about 8-10 minutes walk away and 15 to Platinum Mall. A tuk-tuk ride would cost you 30-50 baht (if you bargain for it of course). The perks of this place also comes with
superb accessibility
to and from the Airport Rail Link. Ratchaprarop Station is only a 4 minutes walk away :P
Trust me when I say I loveee our hotel's location. It may be a little shady, but it never is too dodgy because we took a 15-20 minutes slow walk back after our dinner at Pla Tong Mookata. Yes that's how close it is from our hotel to Victory Monument station.
It's superr near Victory Monument, as well as Airport Rail Link. The hotel deal became such a steal!
Look at how our corridors are filled with all that natural light!
Let there be light
, I'd say. We are also 8 minutes away from an array of massage choices near our hotel, opposite Pratunam Market/ Indra Square. We call it
"The Bridge"
each time we communicate, so it became The Bridge it is. Most of the massages are located around the bridge access right in front of Indra Square, specifically outside of Watsons!
They range from 200 baht to 200 baht / hour. We usually head to the one located on the 2nd level of the overhead bridge (Clean and comfortable) or right below it (Pretty meh~). Had to deal with a sleeping masseuse one night when we arrived at 11pm and she was literally pressing my legs as though they're made of glass. You get the drift! It's either a hit or miss for these massages - Either you get the right masseuse or you just have to deal with the sucky hour long massages.
But, we tried something out of the ordinary this trip! This trip was made
even better
when we made an appointment at
Health Land Spa
, one of the biggest chains of Spa & Massage in Thailand. They provide better service than drop-in road-side massages, as well as rooms to accommodate for comfort based on your group size. We managed to get a room that fits 4 comfortably, and get massaged at the same time :) It's best to call up to make an appointment in advance, and it costs 500 baht for 2 hours - Non-negotiable.
Click here for their spa menu and massage prices
Image Credits to BKKMenu.com
Here's one with the pretty ladies! Met my amazing gorgeous friends from Thailand this trip - Kwan & Praew! Thank you for the kind hospitality and the awesome food and ambience at
Casa Lapin
. It's pretty affordable, and slightly cheaper than the prices you'd find at Roast Bkk @ Thong Lor! We had coffee, wine and bruchy lunch over heartfelt talks, and a lot of discovery and re-discovery since it's the first time that we've actually met one another after being friends so long on LINE.
The beauty of Technology.
Of course, not missing out Ju and my favorite place to dine at -
Roast Bkk @ Thong Lor
. We got here on our previous trip due to lots of instagram recommendations and hashtags, and we finally decided that you'd have to pick the right kind of food off their menu to
actually like their food
. Definitely, not all food on a menu would taste as good as it looks, right?
They have since revamped their site to include new menu images and items
here
. Recommended are the
Pulled Pork Burger, Johnny's Burger and Croque Madame.
Be warned, my previous post on my previous trip to Roast made me swear
not to order
their Roast Breakfast again, even if it comes with a free coffee in a set. It was the most expensive and horrible looking brunch ever. But that's okay. To compensate that one-time, we've ordered their extraordinary
pulled-pork burger
once again and this time, aced it. Their tomato soup is blended really well, creamy and thick and their sandwiches keeps your stomach and hunger pangs in check for the next few hours or so.
But Bangkok is a city, where you constantly get hungry. Because of the kind of food and delicacies they have (be it street-style, cafes or restaurants) their variety just gets to you with their prices and you'd
want it all!
To end our very special trip, meeting very special friends this trip, we've celebrated a night at
Myst @ Thong Lor
with their infamous rainbow shots! No explanation needed, they're just sweet and yummy, a little toxic when you order the whole set more than once. They're approximately $2 SGD per shot, and let me warn you - It gets pretty addictive and you'd just want more. Awesome for pre-party starters. One thing to note is that Myst closes their door early at about 2am, so if you're looking to hang out late in the night, it's definitely a pre-party starter but definitely not a place to party at.
Take a taxi nearby to Onyx, Scratchdog or RCA to get the
real party started!
Let me write more when I pick up and transfer the images from my camera to my laptop - for more itinerary to
Talad Rod Fai Market 1 & 2!
.