If you're not already
shopping online
, you should be... Here are some reasons why:
1. You get to compare prices to save every dime and penny
2. You get
unbeatable deals right at your doorstep!
3. Perks of spending x hours window shopping online
- ogling at what might fit or what you might need
4. It has gone smart, and mobile savvy that online shopping is now made possible -
even
on the go
!
5. Lastly, you'll never stop at once. Just like how you'll never stop at 1 beer!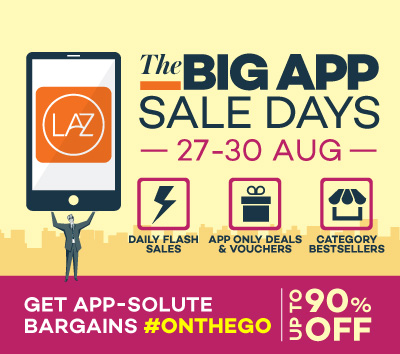 So if you haven't already heard,
Lazada Singapore
is currently having another Big App Sale Day, where you would be able to find amazing deals at unbeatable prices! I kid you not... All you need to do is to download their app (if you do not already have it) from the 27th to 30th August & SHOP.
Why should you download their app?
It is so much easier to browse and shop on the go when you're on the lookout for anything you want. For example, when I'm in the gym and we start talking about protein,
*whips out phone and keys in "whey protein" on Lazada app*
... And then we have the next 15 minutes discussing on the price offered by GNC and other proteins there are in the market and where we could get the best deals. So easy & fuss-free.
See someone with an
electric scooter
on the train and you'd like to find out how much it costs on an average to own one? Whip out the app, key in electric scooter and you'll see an entire range from $290 and above. Ta-dah.
Most importantly, it's raining
Nike
deals! All that Nike shoes, Nike Sports Bras, Bottles, Shoe-bags & Tights... They tempt me ever so much. I refuse.
I have been shopping quite a fair bit of items for home-use, some gadgets and beauty products on various online e-commerce stores - and Lazada has been one of them which I've managed to snag a few awesome steals, as written in my previous post
here
. While Luxola & Qoo10 remains one of my favourite online shopping sites for Korean Beauty & Skincare Products,
Lazada
tops the choice to be a one-stop shop destination that offers me an array of products I may choose from for my family, home and friends.
To name some of the items I bought previously that I loved - Alumnium Portable Table, Pull Up Bar, 20KG Chrome Dumbbells, Kessler Pressure Cooker (Read more
here
)
I've also recently purchased my grandma's and my favourite -
The Nutribullet Blender
. I've been eyeing it for the longgesttttt time and I couldn't resist. Got it off at a pretty awesome deal and I do not regret. It came neatly packed, with 12 other parts and many other bottles I could use (so much better than shake-n-take in my opinion)
and stronger
!
Now I get nutriblasts and amazing blended fruit drinks daily, where my grandmother will prepare a bowl of chopped fruits, carrots and celery & share the drink with me. The
Nutribullet 600W/900W
is definitely worth an investment, easy cleaning and saves a lot of time. I'd only recommend the things that I love and I'll buy, and this is one of them :)
Not amazing enough? From 27th to 30th August, download their App and get even bigger discounts while you shop!
But how can you download their app?
a.
Click on their link here
, enter your mobile number to receive an exclusive $20 voucher with the App Download Link.
b. Or, you may head over to app store/ play store, search for
Lazada Singapore
and download their app. Now you're ready to head into a 4-day discovery tour of one of the best deals in town!
That's not all... Santa came early and I'll be picking
5 lucky winners
to win a $10 voucher each so that you can shop on Lazada Singapore with a happy face :) You may log your entries in the giveaway below - Winners will be picked after 30th August and notified via email, as well as on the widget!
a Rafflecopter giveaway
With love, Jo